Home > Store Locations > Peoria Arizona Store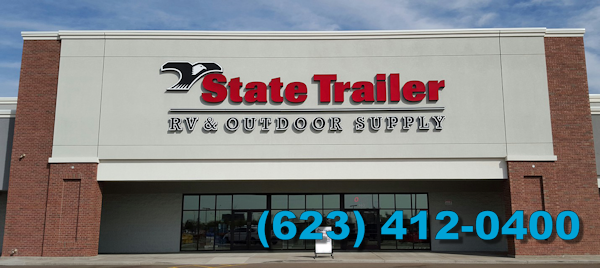 Come visit our store in Peoria Arizona!
Peoria Arizona is the place of plentiful sunshine and endless outdoor adventures and State Trailer RV & Outdoor Supply provides RV parts for people to have fun in the outdoors for more than 80 years. Our huge selection of trailer supplies and top notch service center can help you with all your RV and trailer needs. We've got what it takes to make your RV or Trailer vacation successful and fun!

The last thing you should be doing on your RV vacation is fix'n things, so we want to equip you right so you can enjoy your time away.

Here's a summary of just some of lines we carry:

Solar Panels: Samlex solar has been manufacturing solar panels since 1991 to help make your trip trouble free. We carry a number of different sized solar panels as well as inverters to keep you powered up.

Hitches: All the name brands you recognize for quality - Drawtite, Reese, Curt and B&W to name a few. We stock many common receiver hitches and also 5th Wheel and gooseneck hitches. In addition we handle Equalizer Weight Distributing hitches that take the "white knuckles" out of trailer towing. We can install a hitch on your vehicle and make sure it is the right one for your needs.

Wiring: We have a huge line of wiring kits for most vehicles and the adapters and plugs to make sure the trailer to vehicle plugs match. Along with plug and play wiring kits, we also handle bulk wire and all the connectors you'll need to complete your wiring job. PICO and Tekonsha are top name brands, check them out.

Tires: We stock many different tires and tire and wheel assemblies for trailers including Towmaster and Transmaster as well as tires for ATV's, including Dirt Devil, Afterburn, Grim Reaper and Dirt Commander. We also carry an assortment of wheels.

Outdoor Cooking: Camp Chef is the leader in outdoor cooking! Come see us for all their cook stoves and accessories. One, two and three burner units that pack a ton of BTUs to put the heat on. We also handle a full line of Dutch ovens and accessories. Check out Camp maid for one of the coolest Dutch oven cooking tools ever made!

Propane equipment: From your LP supply tank to the appliances we handle all the propane fittings, hoses, regulators and adapters you'll need. Brand names like Mr Heater, Marshall Excelsior (MEC) and Manchester.

Appliance Parts: We carry many replacement parts for fridges, heaters, water heaters and air conditioners. Including Dometic, Suburban, Atwood and Norcold as well as replacement floor registers, fridge vents.

Along with all of these we also carry many other parts and accessories to make your RV vacation more enjoyable, including Awning mats, Chairs and Tables, Games and Water toys as well as Plumbing Supplies. We also carry Covers and a full line of Cleaners and Repair products to keep you RV looking its best.


Our Store Address
State Trailer Supply
8200 West Peoria Avenue Ste 140
Peoria, Arizona
85345
Phone:
(623) 412-0400
Fax:
(623) 412-4398
Email:
darrellw@statetrailer.com
View our 3D tour of our Peoria Arizona store
Store Hours
Monday through Saturday 9AM - 6PM

View Larger Map