Summary
Item Description
SS01 F002 Sewer Solution - Dump and clean your holding tank without getting your hands dirty. This high velocity water jet pulls sewage from the RV sewer pipe and ejects it out the discharge hose. The Sewer Solution system includes the sewer solution pump unit, a 10 foot length of dump hose and the full hookup adapter kit. It is self-cleaning, with no moving parts, and no messy 3 inch sewer hose. The Sewer Solution (water-powered) jet pump is molded from high strength clear lexan polycarbonate plastic. It will liquify and pump sewage up to 60 feet. The Jet nozzle swivels to switch from the dump to the flush mode. To insure a good fit to the Sewer Solution and the adapter kit, the reinforced vinyl hose ends are pre-formed for easy installation. Included with each hose kit is a short piece of tubing to splice the hose to another piece of similar hose. The full hookup adapter kit will connect from the 3/4 inch dump hose coming from the Sewer Solution to a 3 inch or 4 inch sewage receiver pipe. Also included in the kit is a 3/4 inch dump hose to 1 inch pvc pipe adapter to pump sewage over long distances (up to 60 feet) over level ground.
Specifications
There are no specifications listed at this time. Please check again for additional updates in the future
Q & A
There are currently no questions listed for this item.
Videos
There are no videos listed at this time for this item.
Photos
All images list for this item: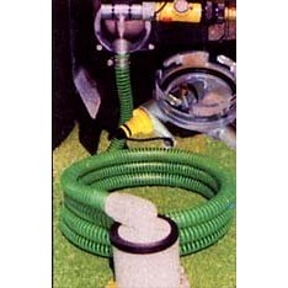 Zoom image
PDF and Downloads
There are no other PDF files or downloads for this item listed at this time.